Miami Iced Tea Cocktail Recipe
January 20, 2023
2023-01-28 21:16
Miami Iced Tea Cocktail Recipe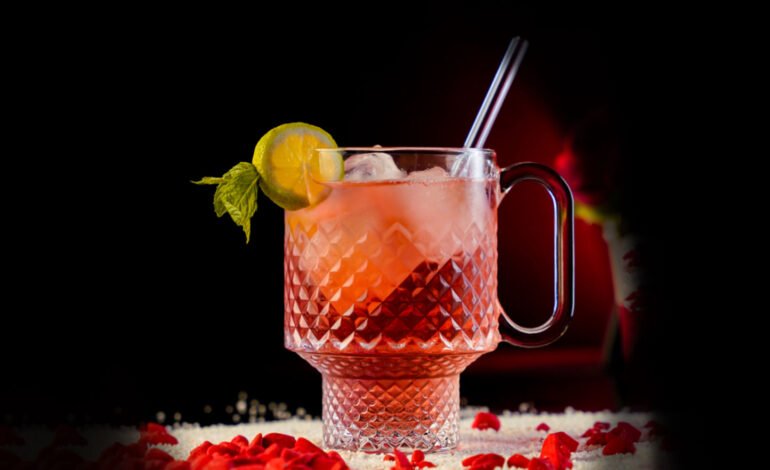 Miami Iced Tea Cocktail Recipe
Throwing a Party and you're looking for the perfect cocktail to share with your guests ?
What is this cocktail made of ?
Just like it's fellow brothers from the " Iced  Tea " Family  ( Long Beach Iced Tea, Long Island Iced Tea… ) This Cocktail is made with 4 parts of Liquor ( Vodka, Gin, White Rum & Peach Schnapps )

To top it off and give it an amazing flavor, you're gonna need Cranberry Juice & 7-Up ( Sprite / Sweet Lemon Soda )

This cocktail is definitely an amazing choice, since it's very tasty & pretty welll balanced.
15 ml ( 0.5 oz ) Vodka
15 ml ( 0.5 oz ) Gin
15 ml ( 0.5 oz ) White Rum
15 ml ( 0.5 oz ) Peach Schnapps
30 ml ( 1 oz ) Cranberry Juice
Top up with 7-Up

Garnish : Lime Wheel & Mint Sprig
Fill up the Carved Beaker Beer Mug with Square Ice Cubes using the Long Garnish Tweezer
Pour in the Vodka, Gin, White Rum, Peach Schnapps & Cranberry Juice, using the Viny Double Jigger
Top up with 7-Up
Insert your favorite straw & give the cocktail a stir
Garnish with a Mint Sprig attached on a Lime Wheel
How did we make these cool ice cubes ?
It is actually very simple to do !
All you need is to cut out some slices of your favorite fruits, place them inside a Square Ice Cube Mold  , fill it out with water and let it freeze overnight.
Then just pull them out of the freezer and enjoy ! 
What is your favorite type of ice cubes ?
Let us know in the comments !